Computed Tomography (CT) Angiography
A minimally invasive and informative method of diagnosing the condition of blood vessels.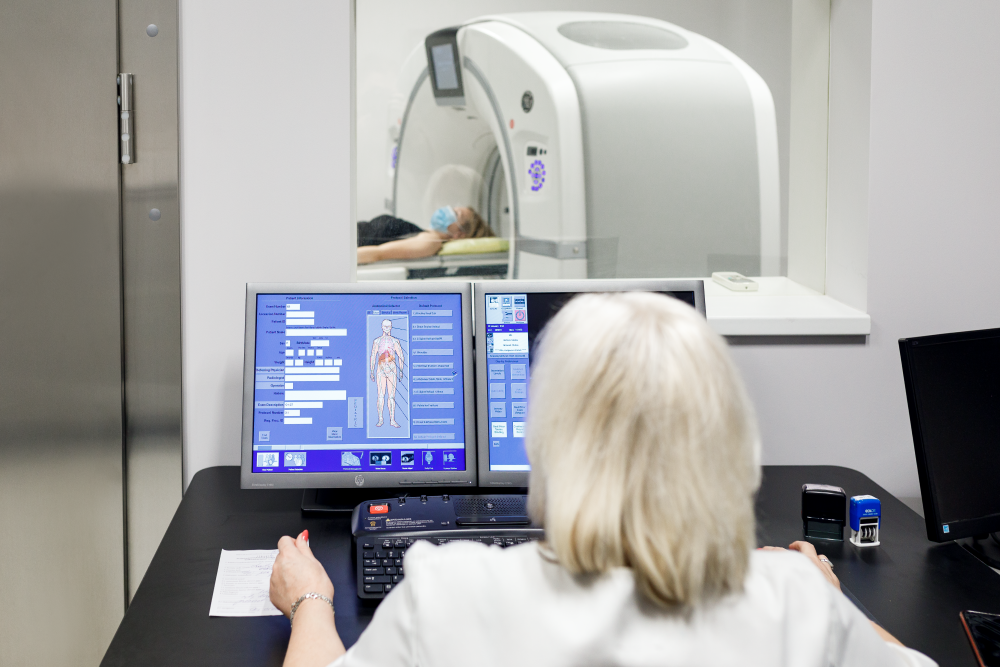 Computed tomography (CT) angiography is a minimally invasive and non-traumatic method that provides detailed information about the condition of a blood vessels, helping the doctor evaluate further tactics for the treatment required or prescribe accurate follow-up examinations.
New 64-slice CT scanner allows to obtain very precise images in a few minutes ensuring an effective balance of image quality and radiation dose.
Kādus orgānus iespējams izmeklēt:

Cerebral arteries

Neck and shoulder girdle arteries

The descending part of chest and abdominal aorta (aortography)

Abdominal aorta and its visceral branches

Renal arteries (e.g., for patients with severe secondary arterial hypertension of unknown origin)

Pelvic arteries and veins

Arm and leg arteries

Veins (phlebography)
What is computed tomography (CT) angiography?
Computed tomography (CT) angiography is a radiological examination of blood vessels, during which cross-sectional images of blood vessels are produced at multiple magnification. The images are analysed by a radiologist, using a special computer program, and obtaining three-dimensional (3D) reconstruction of blood vessels that allows to evaluate the condition of blood vessels and their pathological changes. The results are summarized in a conclusion, along with the images of the examination and reconstruction of blood vessels.
When should CT angiography be performed?
CT angiography is used in the diagnosis of various vascular pathologies and related conditions, such as:
arterial aneurysms and arterial dissection;
narrowing and occlusions of arteries;
arterial and venous thrombosis;
congenital features and anomalies of arterial and venous system development;
mechanical traumatic damage to arteries and veins;
auxiliary method in diagnosis of oncological diseases, etc.
How does the CT angiography work?
The angiography is performed while the patient is moving through the gantry of a computed tomography scanner, so the sensations are like those during the computed tomography scan. During CT angiography, an injection of iodinated contrast material is used. In some cases, the contrast agent may cause side effects, so it is mandatory to check your kidney function with a blood test (creatinine, urea) before the examination.
Examination results can be received in 2-3 working days.
Atbildes iespējams saņemt pēc 2–3 darbadienām.
Precautions!
It is obligatory to have a doctor's prescription to receive the service (justification: the Cabinet Regulations No. 482 "Regulations on Protection against Ionizing Radiation in Medical Irradiation", Sections 12 and 14). Computed tomography (CT) angiography is not performed without the doctor's prescription.
Renal parameters (creatinine, GFR) should be determined not earlier than within 14 days prior to the examination.
Thanks for the application!
You are always welcome in our clinic. You will be contacted by our specialist to confirm the visit.
Thanks, cancelation has been sent!