Sight laser correction
Forget about glasses or lenses – regain clear sight within 15 minutes!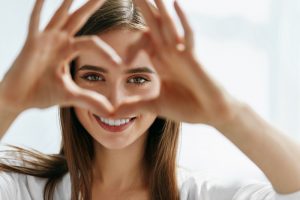 Laser sight correction is a modern method of correcting myopia, farsightedness or astigmatism. The effects are instant, and the quality of sight improves directly after the operation. Choose AIWA Clinic's professional specialists and feel confident in your decision! Guaranteed quality with minimal risk and high achieving results.
At AIWA Clinic, until December 31 2023, you can undergo a sight laser correction operation for a reduced price: for one eye starting at EUR 450 (standart price starting at 650 EUR), for both eyes – starting at EUR 900 (standart price starting at 1155 EUR). This promotion price also applies to the new PRESBYOND vision laser correction surgery, which is suitable for patients over 40 years of age, so this way everyone has access to advanced technology and a higher quality of life. Promotion valid with card Veselība.
.
State-of-the-art technology
We use the technologically excelling excimer laser ZEISS MEL-90.
AIWA Clinic employs professional and experienced specialists, who provide a customized and individual approach and treatment for each patient, with the help of laser correction LASIK surgery. The procedure uses the advanced excimer laser ZEISS MEL-90, which produces excellent results for patients with near-sightedness (myopic refraction), farsightedness (hypermetropic) and astigmatism. Currently, the LASIK method is the most commonly used and reliable surgical sight correction method in the world. Thousands of people undergo this procedure daily, and so can you with ease and the security that you will be perfectly taken care of in the hands of our clinic and experts.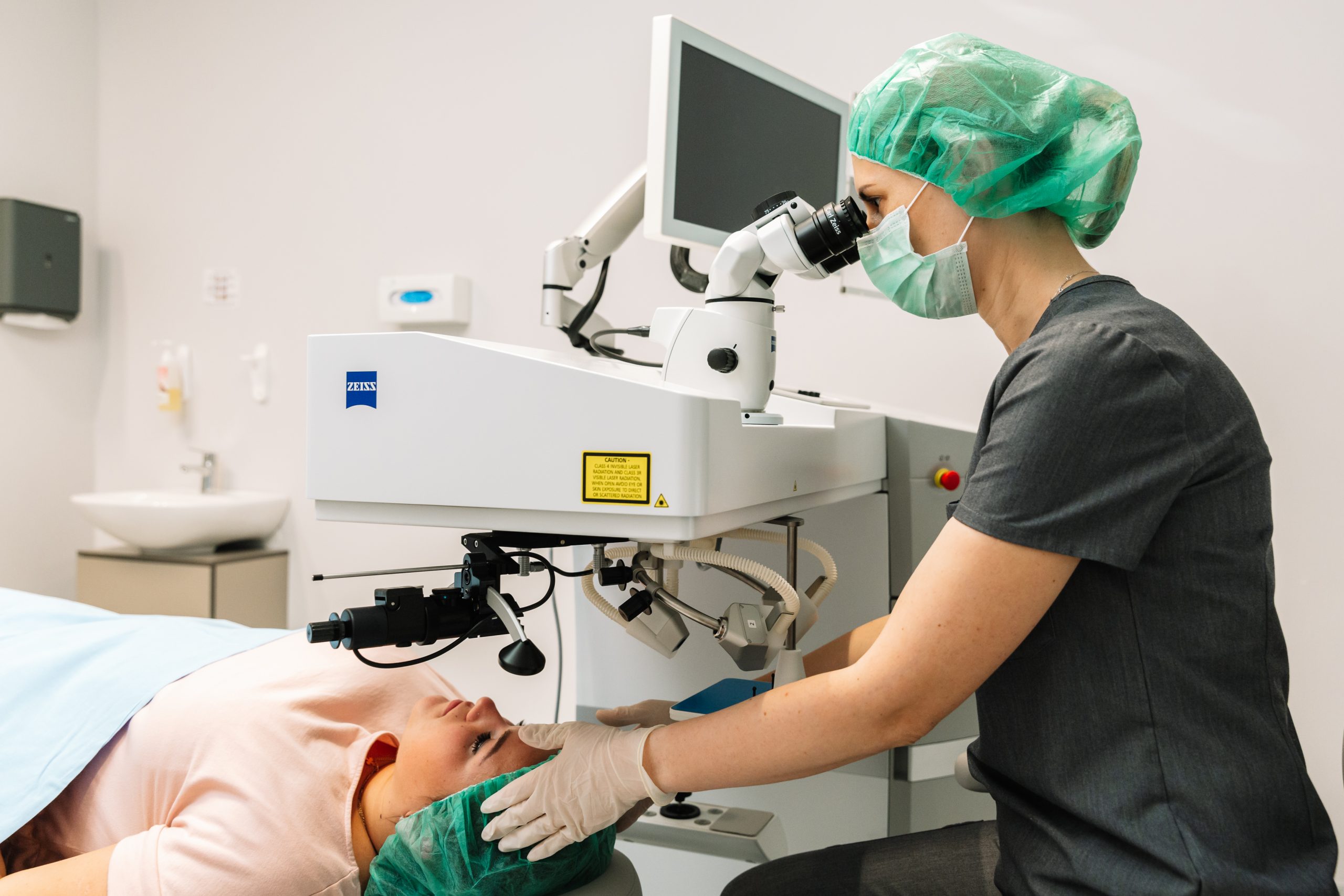 Gentle, safe and tried and tested LASIK method

The latest technology and operating theaters

The operation lasts only 15 minutes

Able to comfortably be released from care within 3 hours after the procedure

Painless

Instant results
The equipment and methods used by AIWA Clinic provide a considerably clearer and sharper sight.
After the corrective surgery, patients are able to see and decipher 10 rows out of 10 on a sight test table.
An ophthalmologist with over 16 years of experience in sight correction is responsible for correction the sight of AIWA Clinic patients.
Guaranteed results
If you do choose to do a laser sight correction at AIWA Clinic, you will in addition also receive a post-operation care guarantee. If the improvement in sight is not satisfactory for the patient within 3-6 months, then an additional operation to obtain the maximal result will be performed free of charge. This way you can be reassured that you will no longer be dependent on glasses or contact lenses on a daily basis and will be able to calmly continue with daily activities, without the stress or strain of not being able to see clearly.
How does this happen?
When you decide to take a step towards effortless and clear vision:
Apply for a consultation.
During the consultation, an in-depth examination will be conducted, and an individual program will be prepared for the patient concerning their specific laser correction treatment. During the consultation, you will agree on the operation date together with your specialist.
You will feel effects of laser correction immediately after the operation.
Please note! Bear in mind that throughout the duration of the week before the consultation, please abstain from wearing contact lenses.
Frequently asked corrections
Can I undergo sight correction?
Before the operation, you must undergo an in-depth examination, which lasts about 90 minutes (price: EUR 75). During the examination, the specialist fully examines your eyes to prepare an individual programme appropriate for you. The LASIK method allows to correct myopia (up to -8.00), farsightedness (up to +4.00) and astigmatism (up to 4.00).
How old do I have to be to undergo laser correction?
Laser correction is recommended between 18 and 45 years of age, and PRESBYOND laser correction is recommended after 40 years.
In what instances is laser correction not performed?
During the consultation, the suitability of both the patient's eye structure and general health for refractive laser surgery will be assessed.
It cannot be used in people with systemic diseases, such as people with diabetes, pregnant women, women who are breast-feeding, patients with unstable sight in the last 12 months and in the case of eye disease, or during illness.
What are the guidelines that I need to observe in relation to the operation?
Soft contact lenses must not be worn for one week before surgery. If the patient uses hard contact lenses, these should not be worn for one month before surgery. The day before the procedure is not recommended to use cosmetics (makeup), perfume. Do not drink alcohol. We recommend not to wear fluffy clothes.
Will I feel pain during the operation?
The operation is conducted under a local anaesthetic – drops. Therefore, you will not feel any pain.
Will I be able to go home after the operation?
Yes. On the day of the operation you will spend about 2.5-3 hours in the clinic. The operation takes about 15 minutes, but the laser effect – only a few seconds.
You may have blurred sight or watery eyes until the next day, so we recommend that you avoid driving.
Outdoors, your eyes should be protected with sunglasses, because they will be sensitive to light for 2-3 days.
What will I have to do after the operation?
The day after the operation, you must attend a post-operation consultation (free of charge). The next three tests should preferably be performed by an optometrist AIWA Clinic.
During the first week of laser sight correction surgery, it is recommended that you:
Do not rub or touch your eyes with your hands
Do not use make-up (in the eye area)
Avoid physical exertion (especially with the head down)
Protect your eyes from wind, dust, smoke, etc. when going outside and wear sunglasses
Avoid swimming underwater and getting water in your eyes
Do not visit the sauna and solarium
Use eye drops in accordance with your doctor's advice
When will I notice the improvement in my sight?
Your sight will improve immediately after the operation, the next day the ability to work is restored. The result of the postoperative is guaranteed. If sight changes within 3-6 months, additional surgery for maximum results is performed free of charge.
Thanks for the application!
You are always welcome in our clinic. You will be contacted by our specialist to confirm the visit.
Thanks, cancelation has been sent!