MAGNETIC RESONANCE IMAGING
A quick and precise way to get detailed information about your health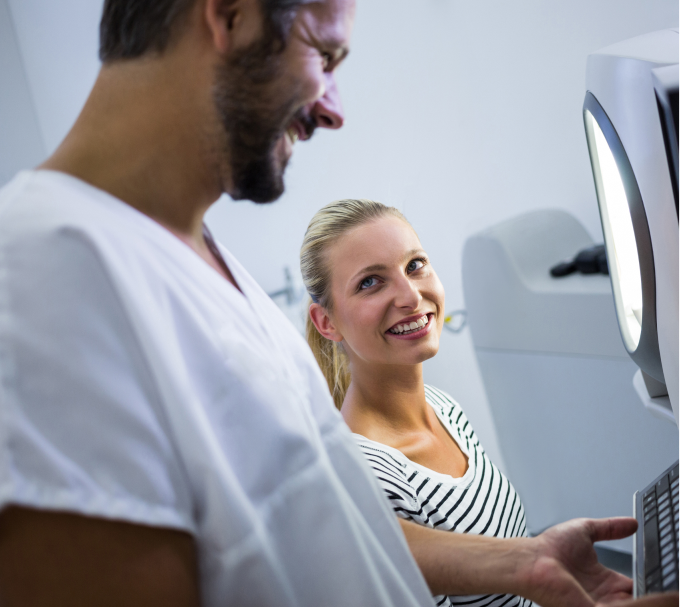 AIWA Clinic offers patients magnetic resonance imaging examinations, which are operatively managed by our clinic's highly qualified professionals. The procedure is non-invasive, painless and provides accurate information about the health of the body.
What is magnetic resonance imaging?
Magnetic resonance imaging is one of the most accurate and modern methods of visual diagnostics, which can be used to obtain detailed multidimensional cross-sectional images of various organs and parts of the body. During the magnetic resonance imaging procedure, the patient is placed in special equipment and is exposed to magnetic fields and radio waves.
How magnetic resonance imaging occurs?
During magnetic resonance imaging, the patient is exposed to a harmless magnetic field and radio waves. Then the information obtained with the help of appropriate sensors is processed on a computer in a special program that is responsible for creating a digital image.
Magnetic resonance procedure images allow to assess, how well the tested organs are performing its' operational functions, and if in any of the organs or blood vessels the blood flow is not disturbed. Thanks to MRI technology, it is possible to diagnose pathologic changes or illnesses in its early development stages, and if the MRI examination is conducted timely, if necessary, it is possible to start an operative medical treatment process and prevent the risks of serious diseases.
What parts of the body can be examined?
At AIWA Clinic we perform magnetic resonance imaging for:

Head and brain

Spine and spinal cord

Bones and joints, soft tissues

Blood vessels
This examination is available for patients from 18 years of age.
When are the results available?
Results of the analyses are available in 5 working days. In urgent cases, after paying additional fee, it is possible to request quickened analyses – ready in 2-3 working days.
When to examine? 
Magnetic resonance imaging examinations can be useful for patients who want to assess their health state, especially in cases if there are complaints about the pain in the head, back, joints. Magnetic resonance examination might be an equally useful diagnostics method in cases if there is suspicion of oncological disease development.
It is important to mention that no special referral is needed for the magnetic resonance examination. This service is offered for a charge by several clinics in Latvia; nevertheless, previously conducted consultation with a family doctor or other specialist will be only beneficial to the patient.
Thanks for the application!
You are always welcome in our clinic. You will be contacted by our specialist to confirm the visit.
Thanks, cancelation has been sent!