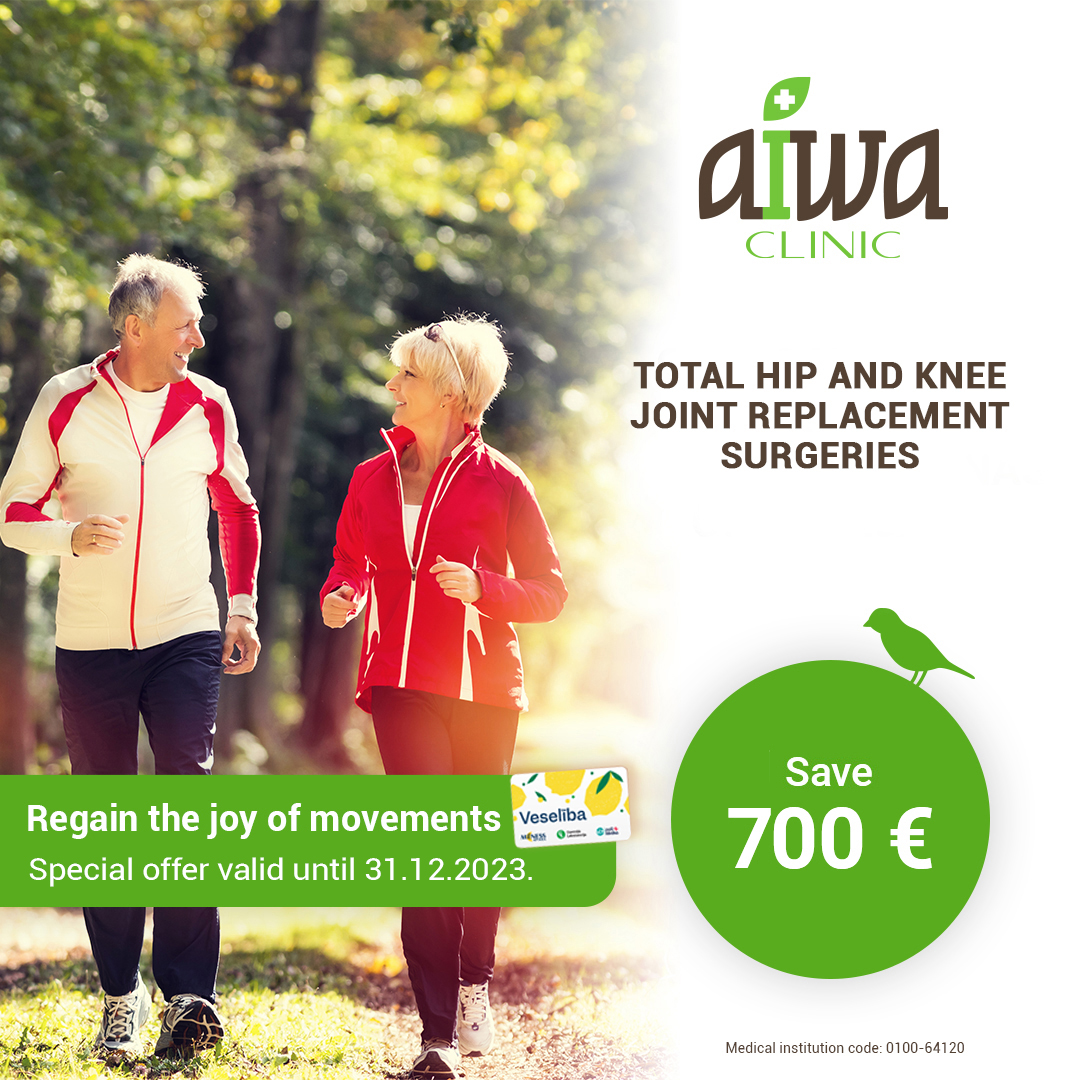 Special offer of total joint replacement surgeries - save 700 EUR! *
AIWA Clinic offers its patients a special offer – a discount in the amount of 700 EUR for hip and knee total replacement surgeries. Save money, restore health, and regain the joy of movements!
Cemented total hip arthroplasty – 2109.00 EUR* (

2809.00

EUR)
Uncemented total hip arthroplasty – 2175.00 EUR* (

2875.00

EUR)
Total knee arthroplasty – 2797.00 EUR* (

3497.00

EUR)
Hybrid hip replacement surgery – 1800.00 EUR* (

2500.00

EUR)
Reasons to choose AIWA Clinic for joint replacement surgery:
Experienced team of traumatologists – orthopaedists
The highest quality endoprostheses and medical materials with a 20–25-year warranty
Modern operating rooms and comfortable wards
The latest generation of technologies
Effective postoperative rehabilitation
"If every movement causes pain or the joint can no longer be moved, but you want to live a full life, the only way out is joint replacement surgery."
*special offer is offered from 01.07.2023. until 31.12.2023. special offer valid with card Veselība. The price of the operation does not include the price of endoprosthesis, anaesthesia and intensive care services, payment for bed-days, physiotherapist classes.
Thanks for the application!
You are always welcome in our clinic. You will be contacted by our specialist to confirm the visit.
Thanks, cancelation has been sent!