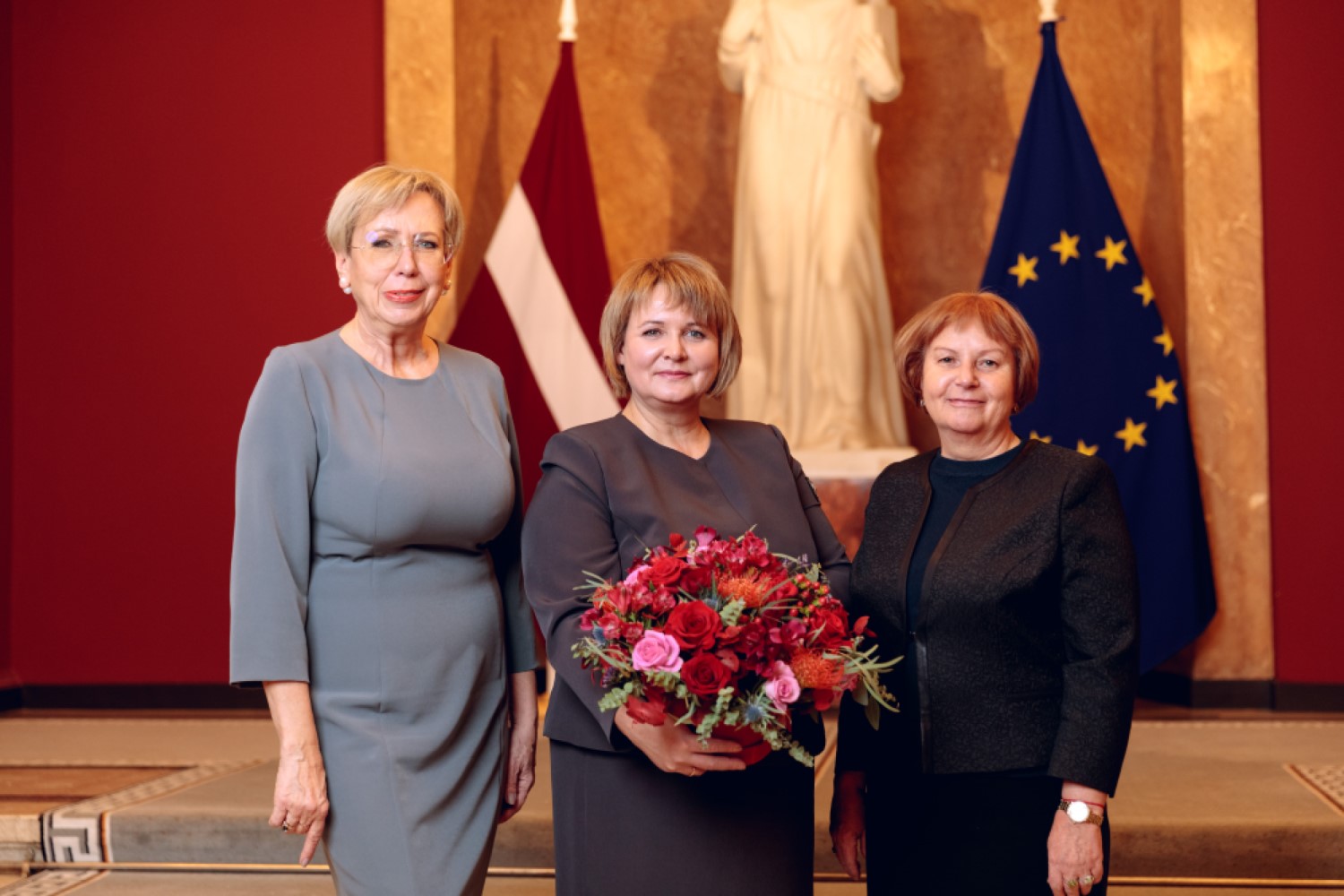 Repharm's investment in the development of healthcare recognised with a Cabinet of Ministers' Award for Stella Lapiņa
Stella Lapiņa, Board Chair of Repharm's subsidiary companies Veselības centru apvienība and Centrālā laboratorija has been awarded the Republic of Latvia's Cabinet of Ministers' Award for her contribution to the development of the healthcare sector. This first ever award to a CEO of private outpatient care businesses for their accomplishments in the field of healthcare underlines their ability to provide solutions to the national health crisis, and to facilitate the availability of diverse medical services.
According to Stella Lapiņa, Board Chair of Veselības centru apvienība and Centrālā laboratorija,
"Although working in healthcare according to a regime dictated by the pandemic is a challenge for everyone, the main key to our accomplishments is a highly-qualified likeminded management team and our conglomerate's selfless professionals. This award clearly demonstrates the civic and national importance of our joint work. I accept it with gratitude, and with a sense of pride and honour regarding every step we have taken together to benefit the health of our population. Right now, as one does at the end of each year, I look back on our work and it is clear that we truly have achieved a great deal. We have effectively adapted to the situation imposed on us by Covid-19 — quickly undertaking additional work, duties and responsibility, approaching the relevant employees, and making the required investments, in order to be able to successfully meet our obligations during this crisis period. At the same time, we continue to upgrade our businesses' everyday services and provide for medical education in Latvia. Accordingly, we are looking beyond the difficulties of this crisis period towards the further growth of outpatient medicine, and prospects for beyond our country's borders."
The Cabinet of Ministers' Award is the Latvian Government's highest honour – and the next highest nationally after the Order of the Three Stars.
Every day Centrālā laboratorija conducts over 35% of Covid-19 tests. Parallel to this, Veselības centru apvienība's vaccination teams are vaccinating 25% of the total number of people vaccinated on a daily basis.
---
In September this year Repharm started work on a new strategy "Fit for 2025", in order to expand its presence from that of a small domestic business, scale its operations across the Baltic Sea region, and pass these new competitive advantages onto its customers. The strategy spans a five year period and its task is to consolidate Repharm's foothold beyond Latvia's borders, achieve the company's transformation, and secure new investments and capital.
The holding company's core operations consist of pharmaceutical product, medical, health and veterinary goods' wholesaling and retailing, as well as pre-wholesale processing and supplying of medicines and medical products to other wholesalers, provision of medical services to the public under the auspices of the State Budget, as well as provision of paid services including dental and rehabilitation services. The holding group's core operations also include provision of laboratory services to both the public and business customers, in addition to which the holding company also provides marketing and information technology services to its business customers.
The group of companies is comprised of AS Repharm and its subsidiary companies AS Recipe plus, AS Sentor farm aptiekas, AS Rīgas farmaceitiskā fabrika, AS Veselības centru apvienība, SIA Centrālā laboratorija, UAB RP Pharma in Lithuania, AS Aprūpes birojs and others, including subsidiary enterprises of the aforementioned businesses.
AS Repharm's group of companies includes healthcare, pharmaceutical retail and wholesale, production, laboratory test service providers operating in the Baltic region. Customers and health are the focus for Repharm's brands and operators providing services at Mēness aptieka pharmacies, Veselības centru apvienība and MediCA group clinics, Centrālā laboratorija labs, the wholesaler Recipe Plus and Rīgas Farmaceitiskā fabrika, a producer of plant-based medicines and herbal therapeutic agents.
Photo caption: The Cabinet of Ministers' Award is presented to Stella Lapiņa (in the centre) and her colleagues from an outstanding business team – Anita Kamenščikova (VCA) and Professor Jeļenu Storoženko (Centrālā laboratorija)
Thanks for the application!
You are always welcome in our clinic. You will be contacted by our specialist to confirm the visit.
Thanks, cancelation has been sent!