Specialists
A team of highly qualified professionals takes care of the health, well-being and safety of our patients.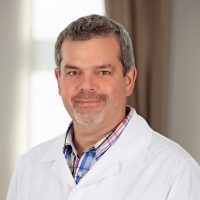 Aleksandrs Omeļčenko
Traumatologist, orthopaedist
Languages:
Speciality
Operating Traumatologist, Orthopaedist
Specialising in:
Knee and shoulder joint arthroscopic operations.
Hip and knee joint endoprosthetics.
Bone fracture operations.
Education
Riga Institute of Medicine.
Professional organizations
Member of the Latvian Traumatalogists and Orthopaedics Association.
Member of the Latvian Association of Knee Surgery, Arthroscopy and Sports Orthopaedics.
Member of the Latvian Association of Burn Doctors.
Thanks for the application!
You are always welcome in our clinic. You will be contacted by our specialist to confirm the visit.
Thanks, cancelation has been sent!