Specialists
A team of highly qualified professionals takes care of the health, well-being and safety of our patients.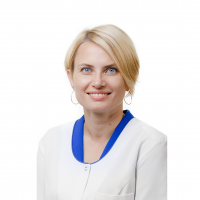 Dace Lietuviete
Head of Ophthalmology Center, Ophthalmologist
Languages:
Speciality
Certified ophthalmologist, surgeon with over 19 years' experience
AIWA Clinic Ophthalmology Centre Head Doctor
Specialising in:
Small incision cataract surgery with the phacoemulsification method
Cornea transplantation surgery
Intravitreal injections
Optometry
Education
Riga Stradiņš University Ophthalmology Residency
University of Latvia Faculty of Physics and Mathematics, obtaining a Second Level Professional Higher Education in Optometry
Further education:
She has improved her surgical skills at leading clinics including in:
India (Mahatme Eye Bank and Eye Surgery Hospital)
Switzerland (University Hospital of Bern and European School for Advanced Studies in Ophthalmology)
Estonia (KSA Vision Clinic)
Italy  (Monza Eye Bank)
Bulgaria (BOW Courses)
Additional information
With her scientific work, she has participated in many international and domestic conferences
Vast experience in the performance of clinical studies. Author of articles and publications. Engaged in post-graduate training of junior ophthalmologists
Thanks for the application!
You are always welcome in our clinic. You will be contacted by our specialist to confirm the visit.
Thanks, cancelation has been sent!