Specialists
A team of highly qualified professionals takes care of the health, well-being and safety of our patients.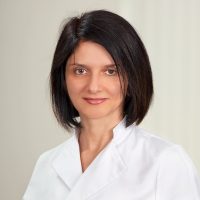 Gaļina Žižimontova
Obstetrician, Gynecologist
Languages:
Specialization
Specialist obstetrician – gynaecologist, gynaecologic oncologist
Specialises in:
Surgical treatment of gynaecological illnesses, including in the realm of minimally invasive surgery
Education
Medical Academy of Latvia, residency specialising in obstetrics and gynaecologic oncology.
Ultrasonography certificate in gynaecology and obstetrics.
Work experience
17 years' experience working at Latvian Oncology Centre in operational gynaecologic oncology.
Also has experience working in British clinics.
Thanks for the application!
You are always welcome in our clinic. You will be contacted by our specialist to confirm the visit.
Thanks, cancelation has been sent!