Specialists
A team of highly qualified professionals takes care of the health, well-being and safety of our patients.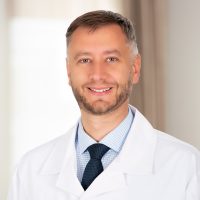 Jānis Šlēziņš, Dr.Med.
Neurosurgeon
Languages:
SPECIALITY
Consults and treats patients, using the most modern diagnostics and treatment approaches and particularly concentrating on minimally invasive and healing surgical methods.
Professional fields of activity:
brain and skull tumours (neuro-oncology),
trigeminal neuralgia, hemifacial spasms,
hydrocephalus (water head) diagnostics and surgical treatment,
intervertebral disc herniation in the spinal cervix and lumbar region, radicular arm and leg pain, herniated disc operations,
stenosis of the lumbar spine, minimally-invasive surgical treatment,
back pain, acute and chronic. Invasive alopecia (blockade). Minimally-invasive spinal operations,
spinal cord and spinal tumours,
cerebrovascular pathology – aneurysms, arteriovenous malformations,
idiopathic intracranial hypertension (pseudo tumour cerebri),
serious head injuries, residual consequences of head injuries,
surgical treatment of Chiari malformations,
surgical correction of skull defects (congenital and acquired),
compression neuropathy diagnostics and treatment (carpal tunnel syndrome, cubital tunnel syndrome),
surgical treatment of chronic and oncological pain.
EDUCATION
Riga Stradiņš University. He obtained his Doctor's Degree in Medical Science in Surgery, defending his promotion work on the subject of "Criteria for Surgical Treatment of Cerebral Infarction".
At Riga Stradiņš University, Dr. Šlēziņš underwent residency training at Pauls Stradiņš Clinical University Hospital, and spent part of his residency working at Hospital Sao Joao, Porto, Portugal.
Further education
Graduation of prestigious European Association of Neurosurgical Societies (EANS) four-year courses.
Pauls Stradiņš Hospital. Specialist Neurosurgeon. Also worked at the State Emergency Medical Service Centre of Specialised Medicine as a Doctor – Neurosurgeon.
From 2014–2016, Dr. Šlēziņš worked at leading British neurosurgery centres (King's Neurosurgery, King's College Hospital, London, and the Walton Centre for Neurology and Neurosurgery, Liverpool), where he augmented his professional knowledge specialising in neurosurgery.
Professional organisations
Member of Latvian Society of Neurosurgeons, Member of the Certification Commission.
Member of the Latvian Medical Association.
Thanks for the application!
You are always welcome in our clinic. You will be contacted by our specialist to confirm the visit.
Thanks, cancelation has been sent!