Specialists
A team of highly qualified professionals takes care of the health, well-being and safety of our patients.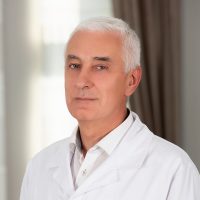 Jurijs Fiļins
Surgeon, Urologist
Languages:
Speciality
Certified Urologist, Andrologist, operating Surgeon.
Education
Graduate of Riga Stradiņš University (Riga Institute of Medicine).
Further education
1993: qualification upgrading courses in "Andrology and Sexopathology".
1994: international courses in "Pathogenesis, Diagnostics and Male Infertility Treatment".
2000: qualification upgrading course at the Saint Petersburg Academy of Post-Graduate Medical Education.
Continually augments his professional qualifications and actively participates in international seminars and congresses in andrology and urology.
Profesional organizations
Member of the Latvian Association of Urologists and actively involved in European Urologists' Associations.
Thanks for the application!
You are always welcome in our clinic. You will be contacted by our specialist to confirm the visit.
Thanks, cancelation has been sent!