Specialists
A team of highly qualified professionals takes care of the health, well-being and safety of our patients.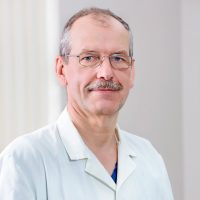 Pauls Bārtulis
Resuscitator, Anesthesiologists
Languages:
SPECIALITY
Certified Anaesthesiologist, Reanimatologist
Education
Riga Institution of Medicine Faculty of Medical Care (1990).
Further education
Riga Stradiņš University – courses in Bronchoscopy.
Professional experience
Riga Pauls Stradiņš Clinical University Hospital, Anaesthesiology Department.
Riga 1st Hospital
Professional organisations
Latvian Association of Anaesthesiologists and Reanimatologists.
Member of the Latvian Medical Association.
Member of the European Society of Anaesthesiology.
Member of the European Society of Regional Anaesthesia.
Thanks for the application!
You are always welcome in our clinic. You will be contacted by our specialist to confirm the visit.
Thanks, cancelation has been sent!