Specialists
A team of highly qualified professionals takes care of the health, well-being and safety of our patients.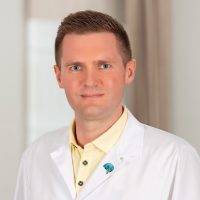 Raimonds Mikijanskis
Neurosurgeon
Languages:
SPECIALITY
Consults and operates on patients with brain and spinal diseases.
Areas of neurosurgical activity:
Aneurysms
Arteriovenous malformations (AVM)
Chiari malformation
Disk hernias in the neck and lumbar region
Acoustic neuroma (schwannoma)
Extra-intracranial artery anastomoses (Moyamoya disease, aterosclerosis)
Brain tumours
Head injuries
Skull base tumours
Cranial vault defects
Skull base defects
Hemifacial spasms
Hydrocephalus
Idiopathic intracranial hypertension
Intraorbital tumours
Compression neuropathies (carpal canal, cubital canal, n. peroneus)
Leucorrhoea
Back pain, invasive alopecia (blockades)
Spinal cord tumours
Narrowing of the spinal canal (spinal stenosis)
Spinal canal tumours
Nerve tumours
Trigeminal neuralgia
Education
Riga Stradiņš University / University of Latvia – specializing in neurosurgery.
Further education
Graduate of the prestigious four year course run by the European Association of Neurosurgical Societies (EANS).
On several occasions, he has augmented his theoretical knowledge and practical experience at the Helsinki University Central Hospital in Finland, the Arkansas Neuroscience Institute and Barrow Neurological Institute, USA. He actively uses the knowledge he acquires in practice. Regularly attends training courses organised by the EANS and international neurosurgeons' congresses at which he has twice received awards for his academic work.
Professional organisations
Member of the Latvian Society of Neurosurgeons
Member of the American Association of Neurosurgeons (AANS)
Member of the Congress of Neurological Surgeons
Member of the European Association Neurosurgical Societies (EANS)
Thanks for the application!
You are always welcome in our clinic. You will be contacted by our specialist to confirm the visit.
Thanks, cancelation has been sent!