Specialists
A team of highly qualified professionals takes care of the health, well-being and safety of our patients.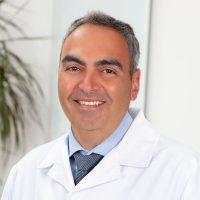 Wissam Raphael
Head of the Orthopedic Center, Traumatologist, orthopaedist
Languages:
SPECIALITY
Traumatologist, Orthopaedist
Specialising in:
knee joint surgery (endoscopic, meniscus tear, anterior cruciate),
shoulder joint surgery (endoscopic, reconstructive ligament damage),
hip and knee joint endoprosthetics,
bone fracture operations,
orthopaedic and sports medicine operations – osteotomy, or extremity bone correction, damaged tendons, ligaments, and muscle reconstructive operations,
intra-articular injections (PRP (plasma-rich platelet), Hyalonronate, blockade)
Education
College des Freres Mont La Salle – Ain Saade.
Latvian Academy of Medicine.
Pauls Stradiņš University residency specialising as a Traumatologist, Orthopaedist.
Further education
Internships at university clinics in Sweden.
Additional knowledge acquired England, Germany, Poland, Spain, Belgium, Switzerland, Austria and the USA.
Professional organisations
Member and Board Member of the Latvian Knee Surgery, Arthroscopy and Sports Orthopaedics Association.
Member of the Latvian Traumatologists and Orthopaedics Association.
Member of the Latvian Hip and Knee Endoprosthetics Association.
Alumni Member of the European AO Association (AO Alumni Association Member).
Co-Founder of Latvia's Vidzeme Region Traumatologists' and Orthopaedics Association.
Member of the Latvian Medical Association.
Member of ESSKA (European Society of Sports Traumatology, Knee Surgery and Arthroscopy).
Thanks for the application!
You are always welcome in our clinic. You will be contacted by our specialist to confirm the visit.
Thanks, cancelation has been sent!